uPVC Window Specifically Designed for Triple Glazing
Triple glazing will significantly improve the thermal efficiency and sound insulation of your home. With three unique features, we offer the only UK window profile system specifically designed for triple glazing.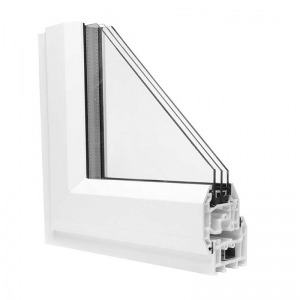 Glazing Bead for 36mm Units
A specifically designed 'flatter' glazing bead allows our frames to accommodate a thicker triple glazed unit.
Trojan 'Mega' Hinge
Our Trojan 'Mega' egress hinge is larger and stronger than standard, making them ideal for triple glazing.
Enhanced Security
A third pane of glass provides a much needed extra layer of defence against an attempt to break-in.
Noise Reduction
A second unit cavity makes sound wave transfer more difficult, providing superior noise reduction.
Energy Retention
With the 36mm glazing bead, our triple glazed units can achieve U-values as low as 1.0 W/(m²-K).