Garage Doors
Jewel Windows offer an extensive range of garage doors to provide you with the very best in style and function. Whatever type of garage door you are looking for we are confident we can meet your requirements.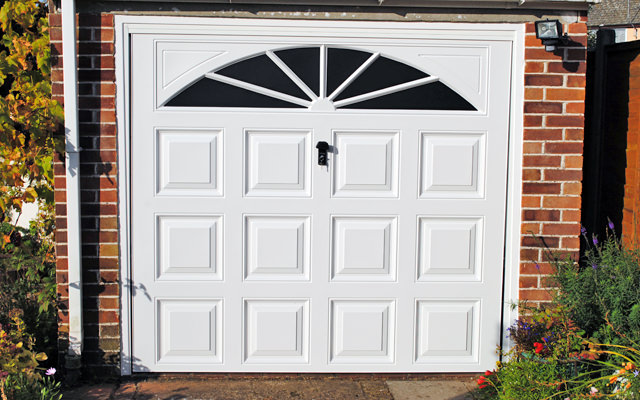 A Wide Selection of Garage Doors
Having a new garage door installed is an investment in your property. That's why we offer a multitude of different garage doors so that you make the right decision for your home. Please see below an overview of the different garage doors we can install.
View our Brochures for Garage Doors
At Jewel Windows we provide a comprehensive range of garage doors, you can view the different designs in the brochures below.
Up and Over Garage Doors
The up and over style is often what springs to mind when we think of garage doors. It is the most common style of garage door and their one-piece construction provides simple and easy operation.
We offer up and over garage doors manufactured using wood grain GRP (Glass Reinforced Plastic) that echo the attractive and traditional appearance of timber.
Whilst these garage doors look great they are extremely low maintenance and will not require any of the time-consuming upkeep associated with wooden doors such as staining and painting. They are durable too and will not shrink, crack, warp or rot.
Alternatively, for a clean and sleek look why not choose our popular white high gloss up and over garage doors? These good-looking doors are available in a selection of traditional and exclusive designs so you can achieve your desired look. These garage doors are also an excellent low maintenance option.

Roller Thermaglide Garage Doors
Our high quality Roller Thermaglide garage doors are the ideal choice for the homeowner looking for a modern garage door.
They have a clever coil function that means they are compact when opened. They open vertically and have a headroom requirement of only 270mm (or 300mm for larger doors) so they offer superior clearance and more overhead and side-wall space for storage.
You can choose to have an easy-to-operate, manually opening Roller Thermaglide garage door or for something a bit more technically advanced a button automatic option is available.
These doors do not have a kick out action or operate within the garage so they are the perfect choice if you have a short driveway or often park your car close to the garage door (inside or outside).
Side Hinged Garage Doors
Our side hinged garage doors are an increasingly popular option. These doors are strong, durable and incredibly easy to open and close. They open out with a function similar to that of French doors.
They are available in a range of colours and we can fully install them at a highly competitive price. Why not contact us for a free, no obligation quote? Call us on 01252 444365.