Conservatories
If you are looking to extend and optimise space within your home then our quality conservatories offer versatile space to use all year round. Our conservatory designs will blend beautifully with existing architecture, designed to become part of your property rather than a quick afterthought.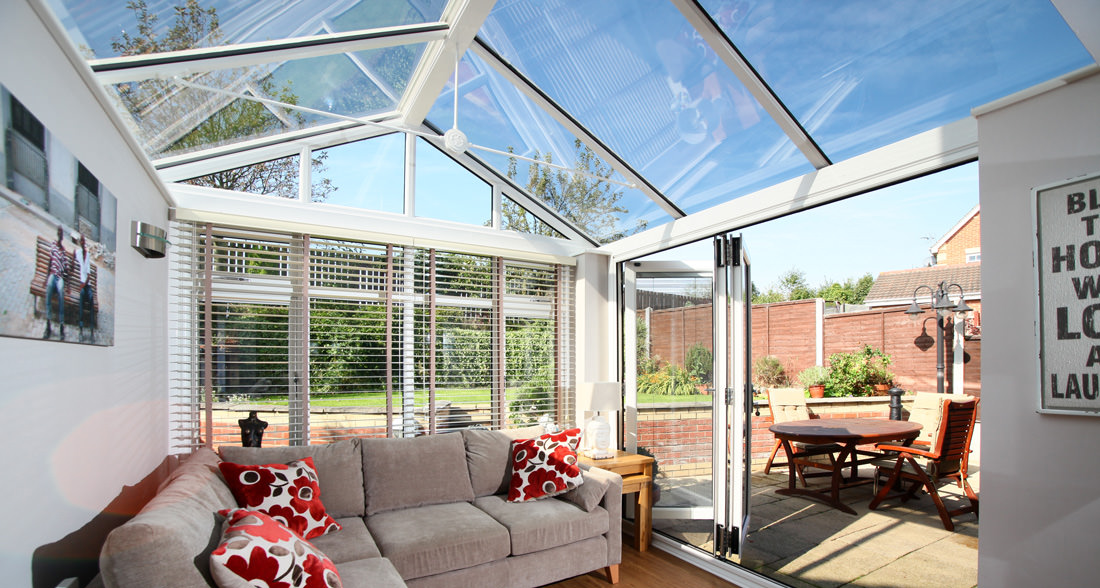 Quality Service
From enquiry to installation, you can expect an exceptional service. Our advisors are with you every step of the way and we will personally manage every aspect of your conservatory project.
We are happy to discuss conservatory ideas, designs and requirements you may have, providing you with a 3D design specifically for you. We only go ahead when you are 100% happy with the design.
We guarantee the highest standards of glass and security features. Our company is extremely experienced in the design and build of quality conservatories so rest assured, we will provide nothing but the best.
Take a look at the brochure for more information on the different styles and finishes of the conservatories that Jewel Windows supply and install.
Replacement Conservatory Roofs
We also offer replacement conservatory roofs. We have found that replacing your old conservatory roof with new Pilkington ActivTM Self-cleaning glass can have an amazing effect on how your conservatory looks, feels and sounds. This self-cleaning glass offers greater temperature control and sound insulation.
Our Conservatory Styles
A conservatory is a great way of adding natural light and value to your property. They will provide you with an enjoyable and versatile new living space which can be put to a multitude of uses. Ever popular, is a kitchen extension conservatory, offering a light and airy room in which to dine and entertain guests.
Whether you wish to turn your conservatory into a home office, children's play area or simply a place to sit down and relax, we offer these multi-purpose home additions in a range of styles and colours.
All of our conservatories can be tailored to your requirements. No matter the style or design you are looking for, we are confident we can create the perfect conservatory for your home.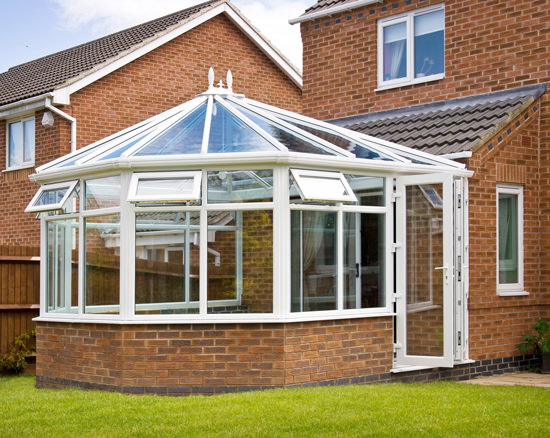 Victorian Conservatories
The Victorian conservatory is traditional in design and is appealing to home owners of both modern and traditional properties. This is a timeless style which emanates from late Victorian era.
Inspired by this period of architecture, the eye can't help but be drawn to the Victorian's ornamental beauty. This conservatory style is renowned for its elegant aesthetics and it makes a wonderful additional to homes already of a Victorian design.

Design
Pitched Roof: The roof slopes upwards from its sides and the ridge is the apex part of the roof.
Multi-Faceted: Available in a three facet design and five facet design. Our three facet design is angled for maximum space whereas out five facet style provides a more rounded appearance.
Ideal For Small Gardens. The rounded edges of this style provides an access route around the sides.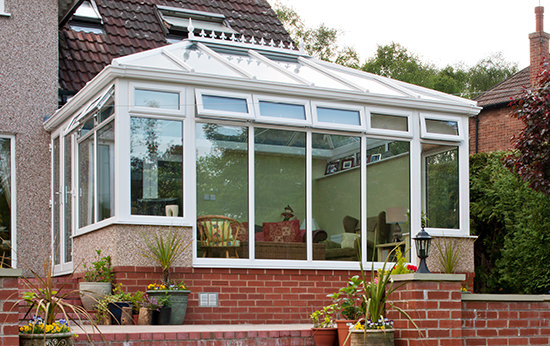 Georgian Conservatories
If you are looking for a classic yet understated style, then our Georgian conservatories offer just that. This design combines clean symmetrical shapes with delicate finishing touches.
Unlike the Victorian style, ornamentation is kept to a minimum and instead this style relies on its spacious design.
You will get a generous amount of floor space with this style which is perfect for the inclusion of furniture suites or plants. You will certainly have more options when personalising the interior.

Design
Flat-Fronted: Square or rectangular in shape.
Sloped Roof: The side of the roofs slope back to the centre, providing a contemporary style.
Available in a classic design as well as a contemporary style.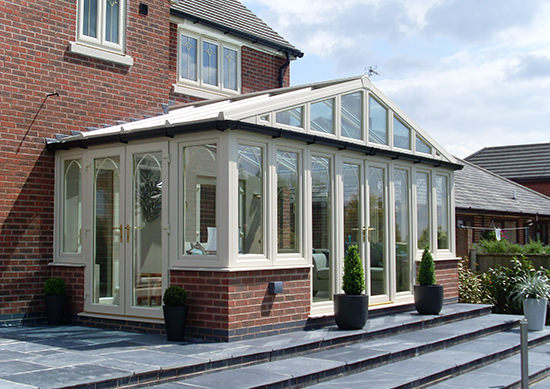 Gable Conservatories
The gable conservatory is grand in appearance and will add a touch of class to any home. This style offers beautiful elevations, with windows which expand all the way to the roof.
This creates a feeling of great height and provides lots of additional light.
Our gable conservatories help to extend and maximise the space available. Their high pitched, elevated roof makes for a light and airy room. This impressive style is available in our classic system.
Design
High Sloped Roof : The roof design mimics that of houses.
Flat Fronted Style
Glass Decoration – Available with a 'sunburst' effect.
Lean-To Conservatories
Lean-to conservatories are chosen for their practical and affordable design. The lean-to conservatory can be adapted for your home which is of particular benefit to homes restricted by height or space such as terraced houses and bungalows.
This simple and fuss free structure is ideal for those who prefer the understated lines of a Mediterranean sunroom. It's sleek and stream-lined design makes it highly versatile.
Design
Available in a classic and contemporary style
Flat-walled design
Suited to a wide range of properties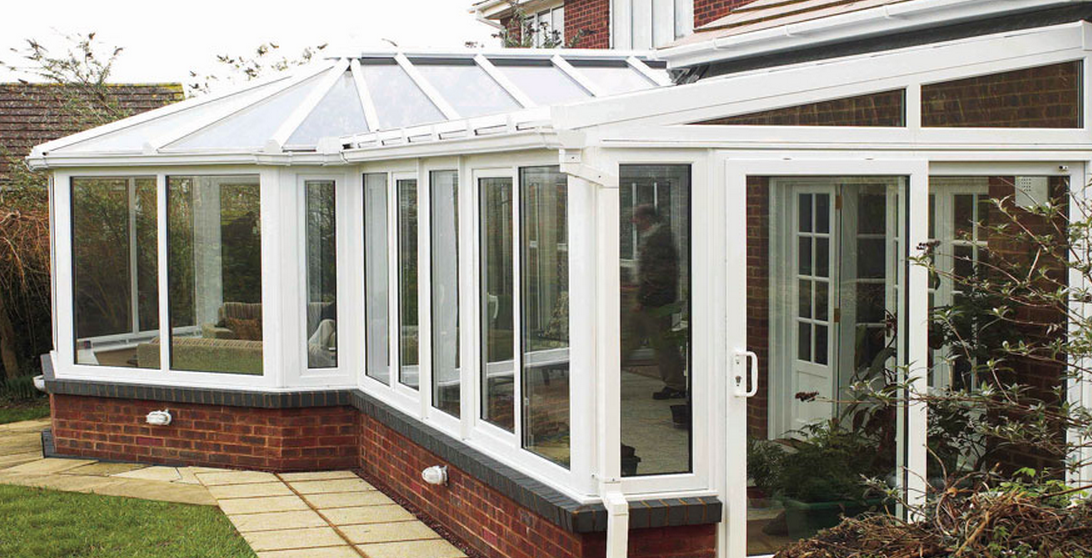 P-Shaped Conservatories
If you are looking for a large conservatory then our P-shaped conservatories are ideal.
The great thing about this style of conservatory is that it provides you with a multifunctional space. This space can be adapted to suit every requirement.
This combination style conservatory takes two conservatory styles and conjoins them to make a large space. This gives you the option of segregating your conservatory into two separate rooms. You can divide the space and use your rooms for different purposes.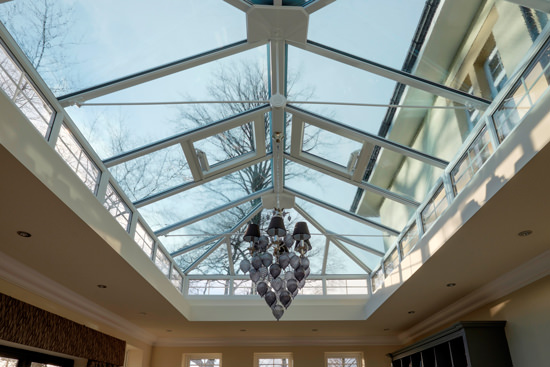 Lantern Conservatories
Lantern conservatories feature a two-tier type roof, almost like a 'wedding cake' effect. These two levels are separated with rows of stylish windows, giving it a very classic feel. These type of conservatories are very popular among period properties.
This two-tiered conservatory offers enhanced dimensions and ceiling height. If you are looking to add more depth and light to your property then the lantern conservatory offers this in abundance.