ORANGERIES BISLEY
An orangery is the perfect option for homeowners in Bisley looking for a stylish extra space. These stunning classic extension options are a fantastic alternative to conservatories. They are comprised of larger brick built areas that would blend perfectly with any property and will offer more privacy than full glass conservatories.
Here at Jewel Windows, we are proud to partner with leading manufacture Ultraframe who are well renowned for creating exceptional conservatories, orangeries and extensions. They are fitted with superior double glazing so you can enjoy your extra space throughout the year in a thermally efficient environment. Orangeries are wonderfully versatile and can be used as any room you might wish, such as a kitchen, dining room or living area.
We are committed to delivering exceptional service to our customers in Bisley. The prospect of home renovations can cause worry and stress. Our experts are on hand to help you handle your entire home improvement project, from the initial designing stage to the final touches and aftercare. As our orangery fittings are straightforward, you will not have to worry about significant disruptions at home during the process. Our installations can be carried out in an impressively short space of time.
We are proud to offer a wide variety of designs to suit your property in Bisley. Take the first step by finding your free online quote today.
BEAUTIFUL RANGE OF ORANGERY DESIGNS
We know that every Bisley home is unique. Therefore we are proud to present three stunning options in our orangery range. They have excellent design features and can be handcrafted to the configurations that suit you and your home.
Whatever you are looking for from your orangery, we can offer the perfect option to suit you perfectly.
Contemporary Orangeries
A Contemporary orangery is the perfect way to fill your home with natural light. Enjoy stylish double glazing that boasts unmatched thermal efficiency so you can enjoy your space in warmth and comfort. If you are looking for a modern and functional orangery that balances performance and style perfectly, this is a reliable option.
You can enhance this design option further with a bifolding or sliding door. This the perfect way to add a sleek elegance to your extension and connect your garden and home.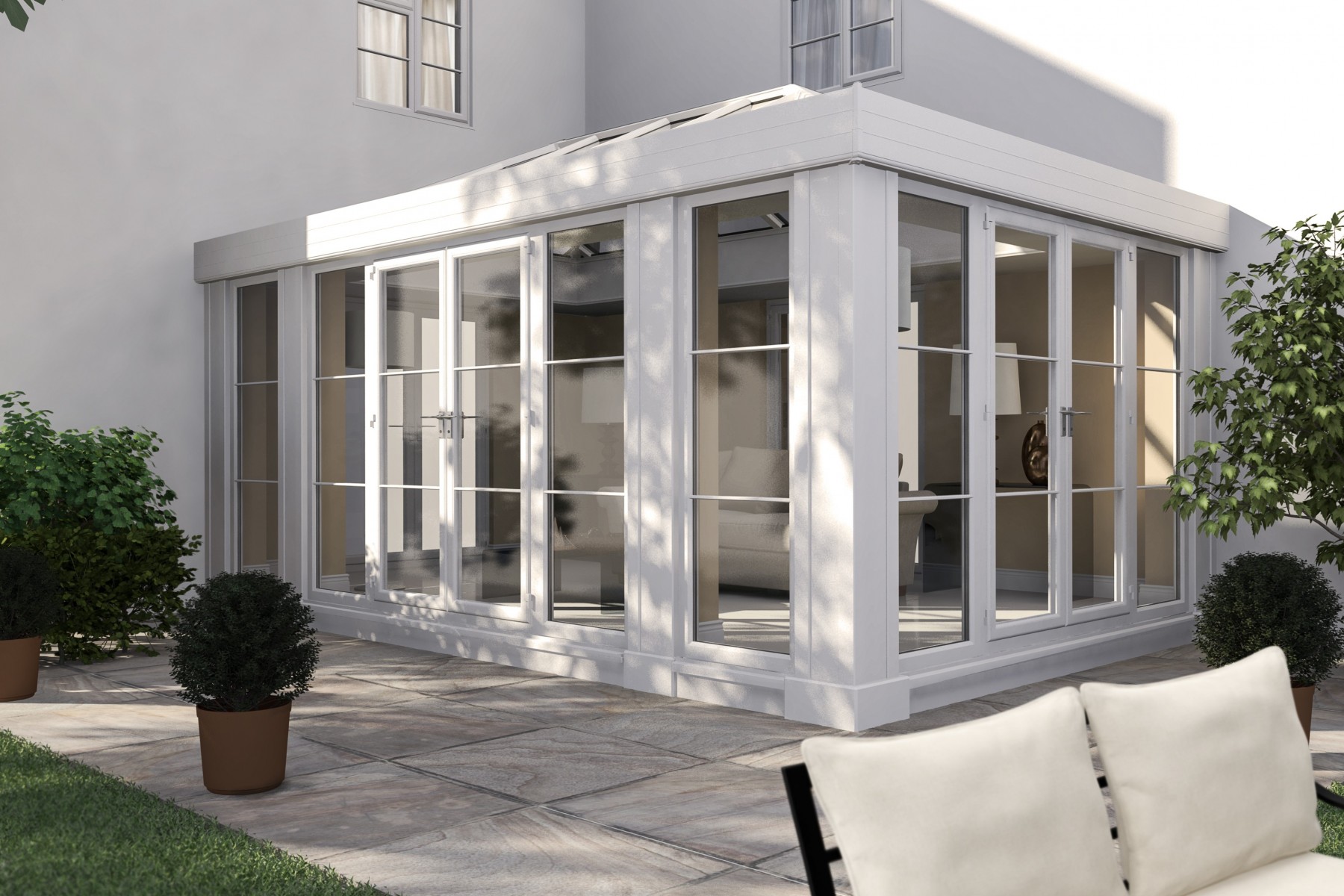 Traditional Orangeries
If you are looking for an option that is conventional yet charming, a Traditional orangery could be the perfect choice for you. Their stylish brick pillars, performance glass roof and decorative cornice options will create a timeless look that will set your house apart.
These orangeries still benefit from the same modern technology that the Contemporary design enjoys. You will experience high thermal performance and stunning natural lighting for optimal comfort in your Bisley home.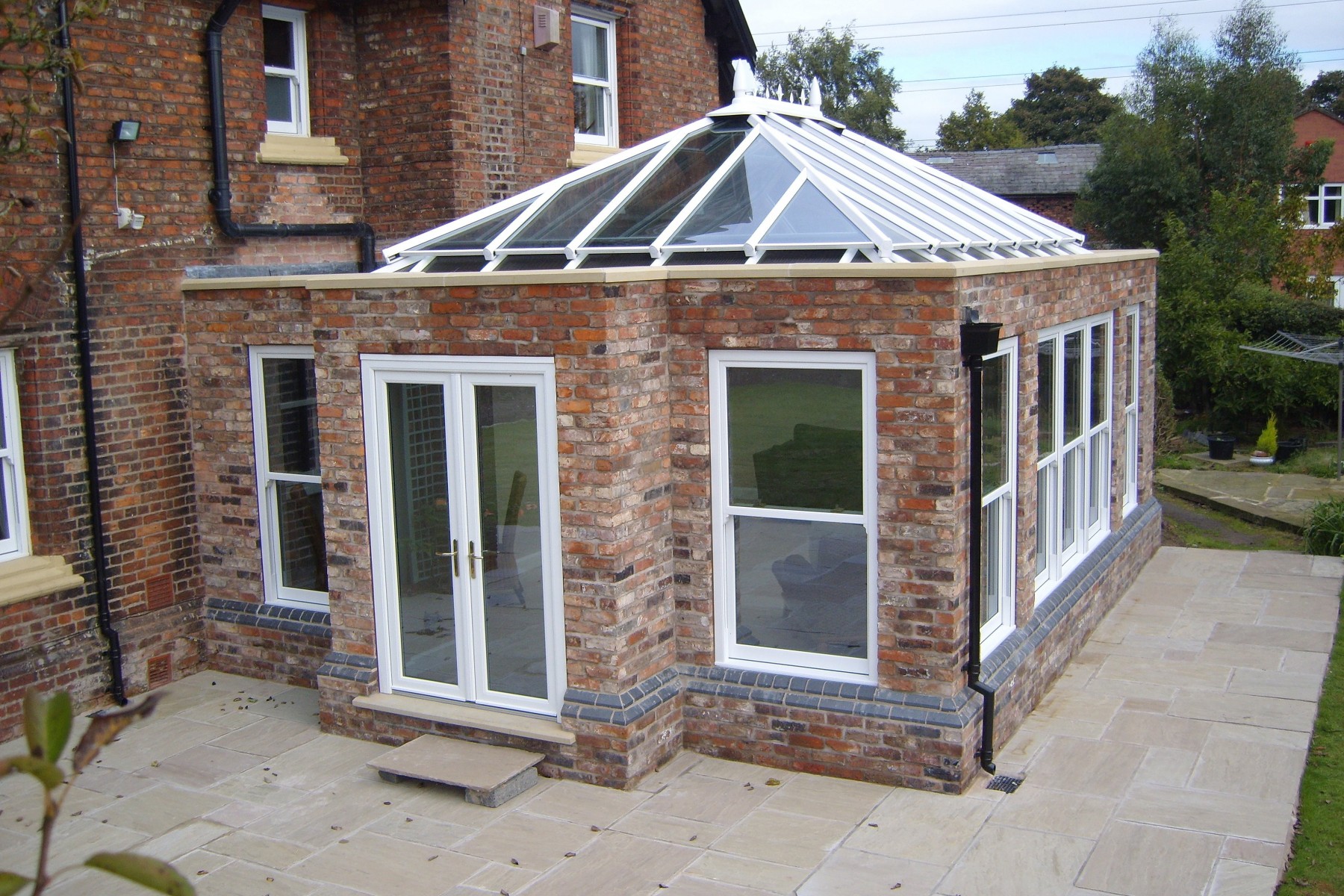 Lantern Orangeries
Choosing a Lantern orangery is the perfect way to enhance your orangery with a stunning roof light. This light sits on a flat roof or desk and will create a beautiful focal point in the centre of your orangery. This makes it the ideal design feature for areas of focus within the room.
You can choose to install an abundance of ceiling lights or speakers into the internal flat roof system to create a bright and modern environment. This custom option and roof system will enhance the aesthetic of your home and boast the same high performance.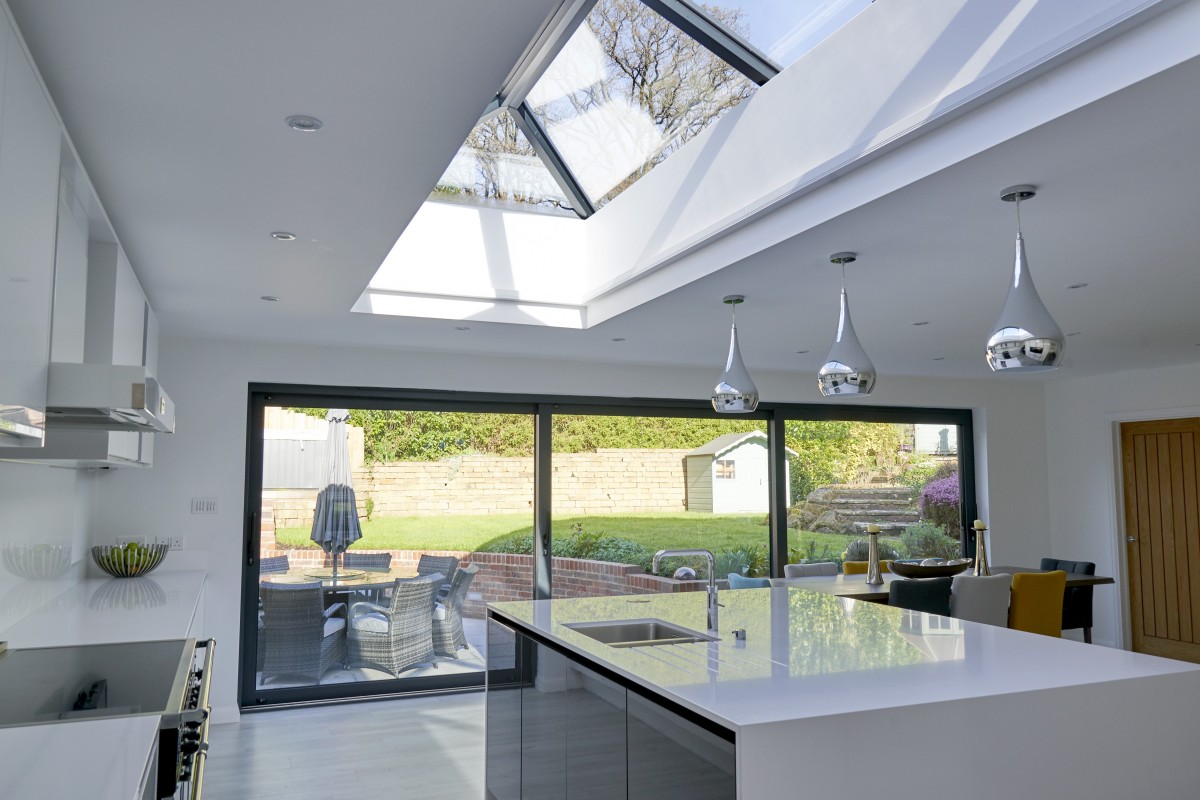 Benefits of Orangeries
Installing an orangery will dramatically increase the value of your home in Bisley. They also deliver better privacy that a standard conservatory but remain most cost-effective than a brick built house extension.
Thermal performance is an important factor across our orangery range. We understand that staying warm throughout the year is essential to you and your family. Therefore we have taken extra care in ensuring our installations are well insulated. You can enjoy a warmer indoor space and lower heating bills.
Our entire range of orangeries are available in a selection of elegant colours that can be matched to the style of your house effortlessly. You can select a completely original design from our qualified team at Jewel Windows, from the exterior colours to indoor features. We want you to be 100% satisfied with our installation.
They are also incredibly secure with a robust multi-point locking system to keep out unwanted intruders. Along with a 10-year guarantee, there are so many reasons to choose an orangery from Jewel.
Orangery Prices in Bisley
Whether you're looking for a Contemporary, Traditional or Lantern Orangery, you can use our free online quote engine and receive a competitive quote in minutes. Take the first step in bringing your creative build in Bisley to life. 
If you have any other questions about our orangeries, you can speak to one of our experts on 01252 444 365, email us on info@jewelwindows.co.uk, or fill in our online contact form.