After months of meticulous planning, Jewel Windows are delighted to announce the launch of our brand-new website!
Having always put customer care first, it seemed appropriate to give our Jewel Windows clients the new website they deserve. Working closely with skilled developers, we improved functionality and usability without compromising on style!
Because of this, the new site features a modern design, improved speed, and easy access to essential information to help you kickstart your dream home improvement.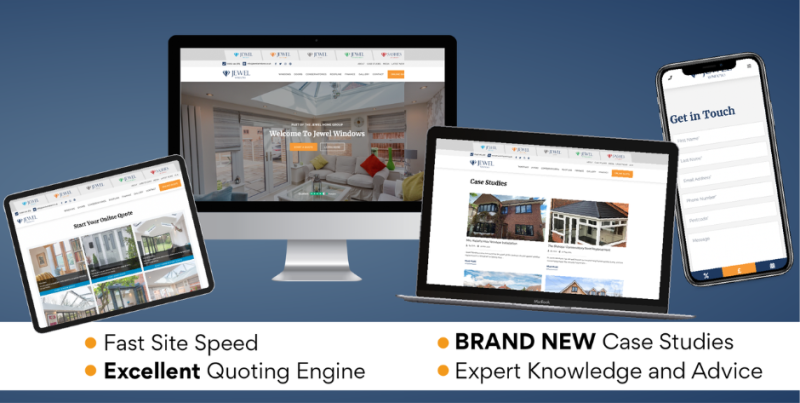 Our Goal 
The new and improved Jewel Windows site has been created to better reflect our brand as the leading choice for quality double-glazing products in Surrey, Ascot, Woking, and surrounding areas.
Our main goal was to make the new website faster with an intuitive, more user-friendly layout. To do this, we have streamlined our menu options, simplified the site's navigation, and enhanced its visuals. Combined with optimised and updated content, we have also worked hard to ensure that mobile devices allow for improved usability and display. 
What's new…
Navigation – Succinct headlines and categories that are more product and user-focused, as well as a simplified navigation bar. 
NEW Case Studies – Recent installation experiences from our clients, giving you an inside perspective of their home improvement. 
Latest News – Updated articles and blogs with the latest product innovations and special events. 
Product Pages – Updated product pages reflective of the vast range of premium home improvement solutions we offer.
Faster Site Speed 
Excellent Quoting Engine – Start the process of improving your home in style and get your free no obligation quote today!
The Future of Jewel Windows
Our new and improved site doesn't just stop here! The Jewel Windows team will continue to release new updates to improve and enhance its user experience.
Although Jewel Windows owes a lot to its old site and to the team that helped to build it many years ago, we realised that the time had come to renew the site so it could fully support our users. We thank you all for your continued feedback, and we hope you will enjoy the new site and return often!
If you are interested in starting your own dream, home improvement project, don't hesitate to contact the Jewel Windows team. You can contact us by calling 01252 444 365 or filling out our online contact form.
If you already know what uPVC or double-glazing products you want, why not start a quote online, where you can get a rough estimate of how much your new double-glazing project will cost, with no obligations!