At Jewel Windows, we are well known for transforming homes across Surrey and the surrounding areas.
We recently helped the Bishop's turn their old conservatory into a warmer and more comfortable space that not only improved performance but appearance too. In many homes, older conservatories simply do not perform as well as modern designs as the technology that was used to create them is dated and not as advanced. These old designs can get cold in winter and hot in summer, meaning they aren't the most comfortable or relaxing part of the house. We worked to bring the Bishops' conservatory into the modern age.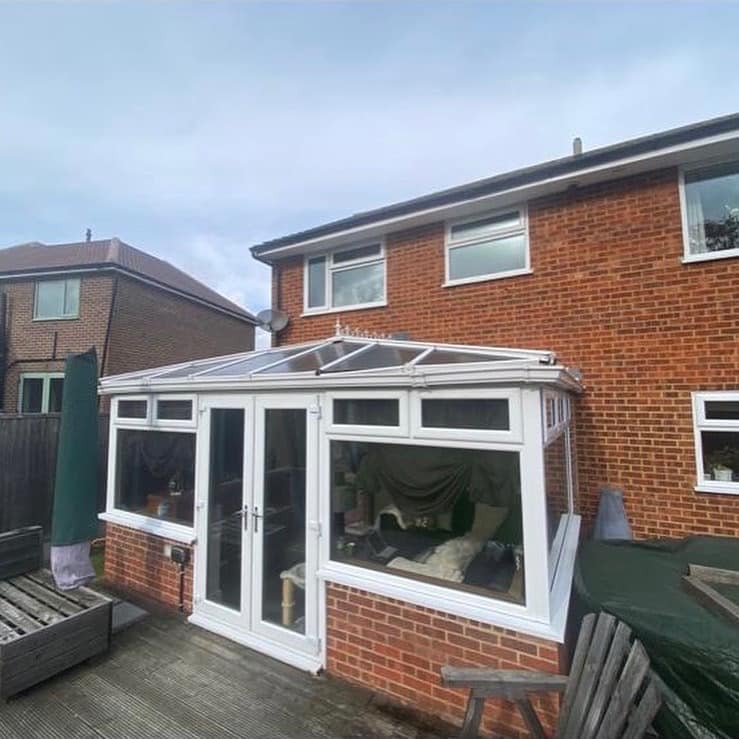 The homeowners decided to invest in a conservatory replacement roof. At Jewel, we offer a wide range of roof designs that are fully customisable to your conservatory shape and style, whether you are looking for a completely new conservatory or a new roof for an older structure. The Bishops were initially concerned that choosing a tiled roof for their old conservatory would be a problem if the foundations of their old conservatory couldn't take the weight. Lightweight and made-to-measure, the tiled conservatory roof from Jewel is specifically designed to be fitted on older conservatories without straining the structure. Therefore, the homeowners could rest assured that they could achieve the design they were after without any worry.
The Bishop family were delighted with their brand-new roof. Thanks to the durable, dense design, they got better thermal efficiency. They didn't have to worry about compromising on lighting as they were able to choose large glazed areas in the tiled roof that would let in plenty of light. They added new roofline products, too, creating a sleek and stylish look for their space.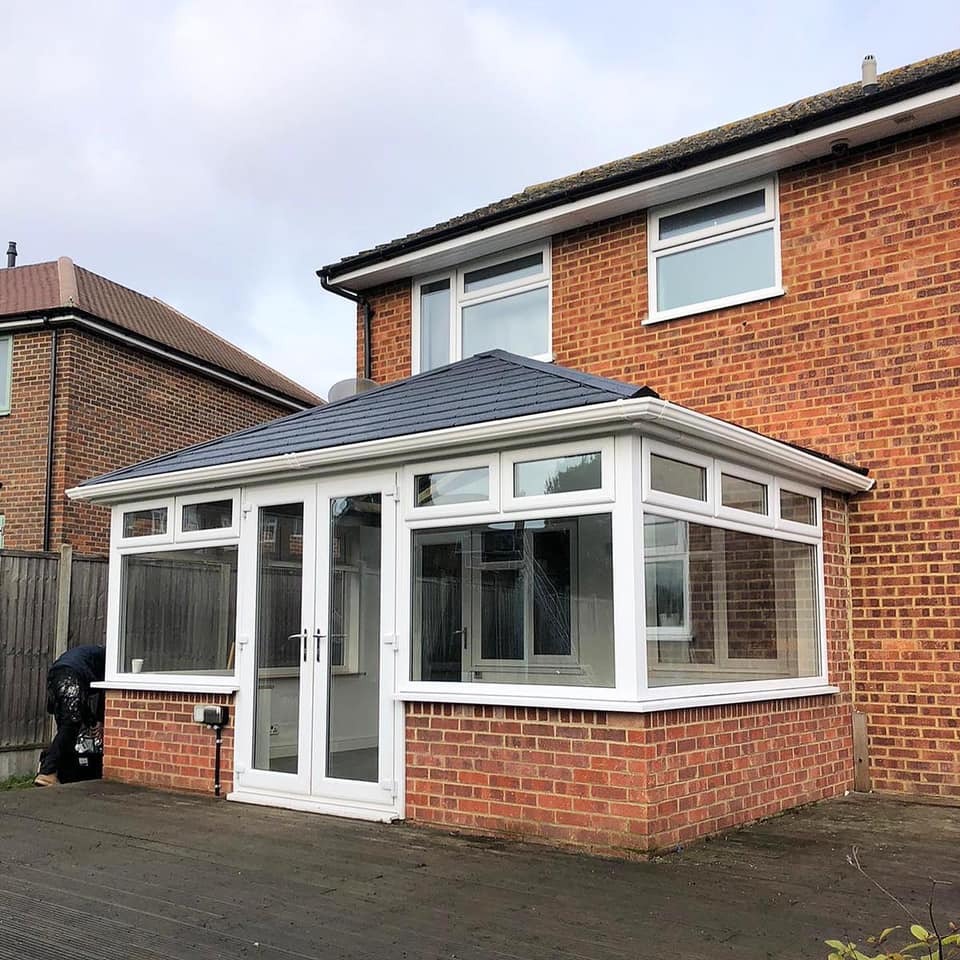 Many homeowners are concerned that improving the insulation of an old conservatory means replacing the whole unit, which can not only be costly, but time-consuming too. Luckily, we know a conservatory roof replacement can often be the solution to a number of different issues, such as poor thermal performance, noise pollution and lack of privacy.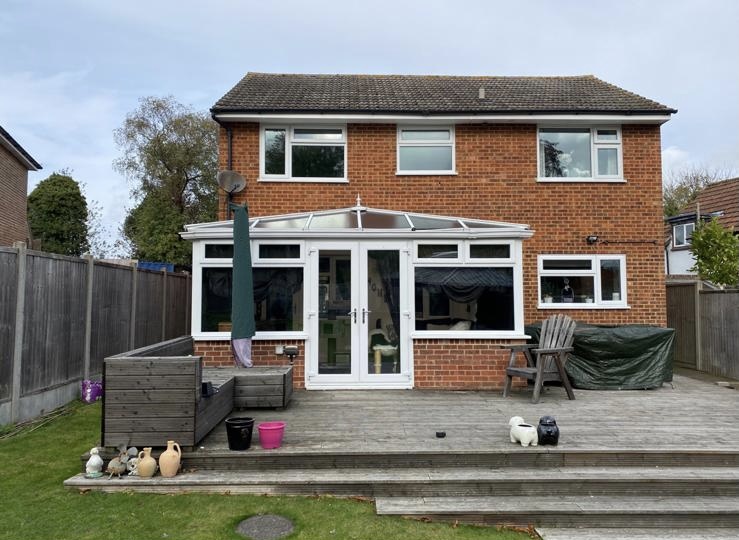 Replacing the roof would help the Bishop family reclaim their old room. The new roof captures more of their home's natural heat and blocks cold air from outside, insulating their home. Additionally, new roofs reflect heat, reduce glare and restrict the greenhouse effect. As a result, their home is more comfortable in the summer, and they can save on their energy bills throughout the year with a lesser need to run the heating.
When they chose Jewel for their conservatory roof replacement, the Bishop family worked with a local installer. As a local company, we believe in personalised service as every home in the area is different. Not only that, but we help throughout the process, from the design to the installation and beyond.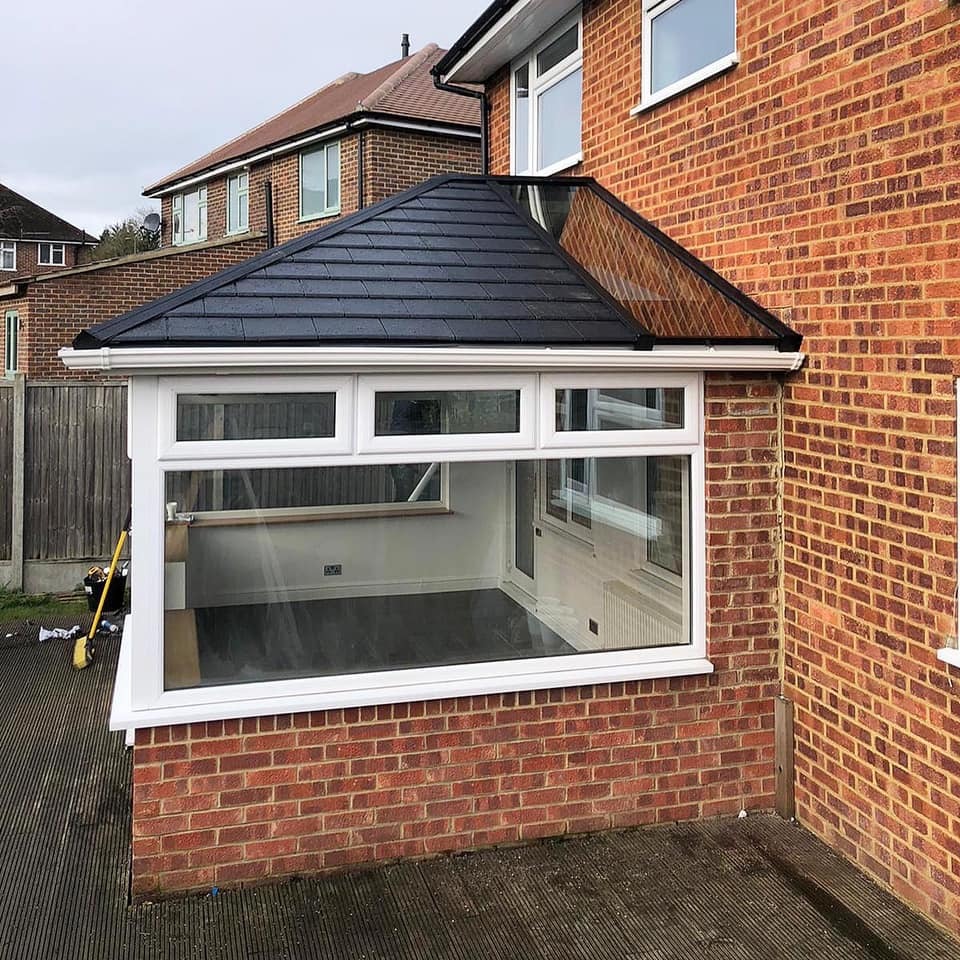 So, what new conservatory roof did the Bishop family choose? In the end, they went for the Prefix Roof. Prefix's roofs are leading designs for insulation, making conservatories warmer throughout the UK. These designs deal with cold air easily and also have thermal breaks. That means that hot air can escape the Bishops' home during the hot summer months.
They opted for a tiled roof with the EnviroTile profile, a thermally efficient design. Not only that, these tiles are lightweight and durable, meaning they won't lose their shape or strength over time. Prefix's roofs are fully weatherproof and last for decades. That way, they were environmentally friendly options for the Bishops, who won't have to replace the roof for decades - if at all!
One of the best things about their new roof is that it's easy to maintain too. As the design is fully weatherproof, the tiles won't crack, twist or scratch. As a result, they won't have to repaint their roof anytime soon. Also, the Bishops opted to add a 28mm neutral self-cleaning 1.0 finish onto the roof, meaning it can break down dirt and muck without them having to, helping keep it low maintenance!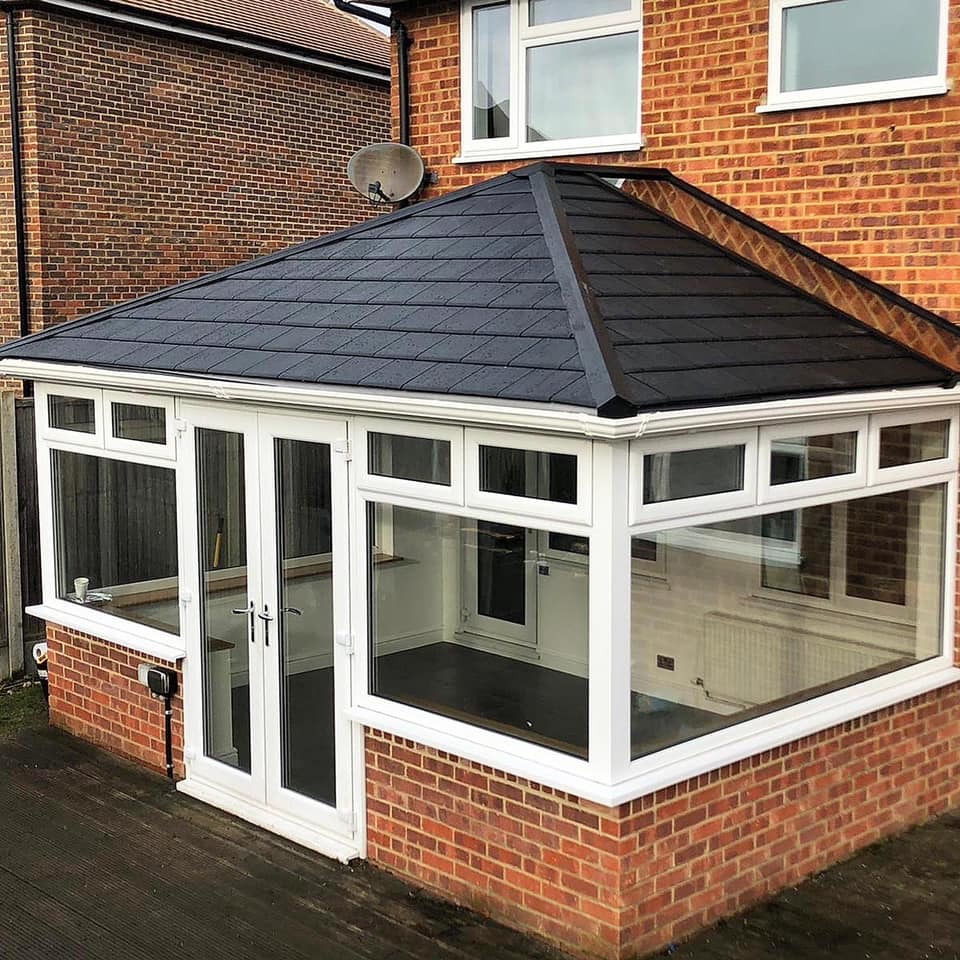 The Bishops were worried that it would be difficult to blend the tiles on the roof into the appearance of their existing property. However, with Jewel's help, they were able to choose stylish tiles that fit their home seamlessly while standing out in their own right. To do this, they decided to fit black tiles onto the roof. Black is a classic colour for matching with all palettes.
They also went with a plasterboard hybrid finish in the build. Plasterboard offers another layer of strength and insulation for their space. Then, we were united in wanting new guttering that was just as durable as the rest of the roof. As a result, we helped the Bishops fit a new roofline, with fascia boards in a white finish that perfectly complemented the black tiles on their roof.
These homeowners have transformed their home with a conservatory roof replacement. And, when you get in touch with Jewel, you could do the same for your home. If you have an old space you'd like to use more, our range of durable roofing makes it possible. You can invest in glass, solid or tiled roofs with us, and even roof lanterns!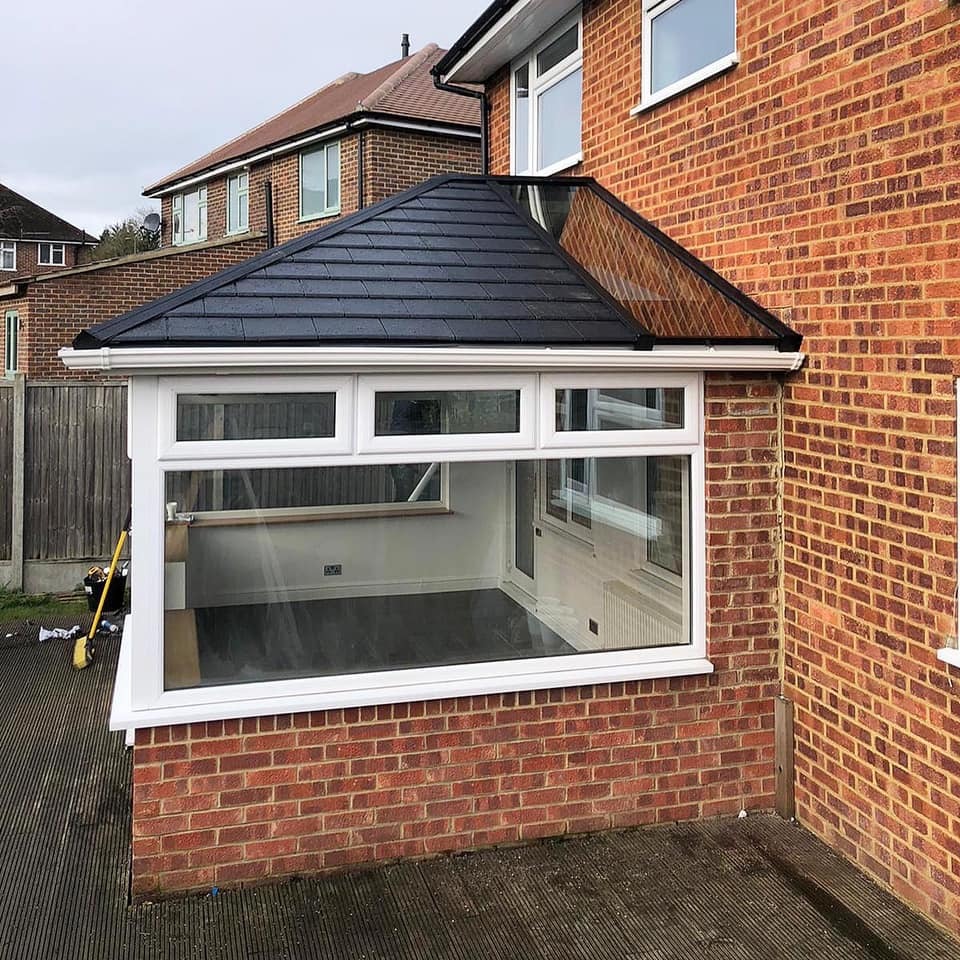 At Jewel Windows, we're a trusted local installer of conservatory roofs in Guildford and the surrounding areas. With us, you can get a new ceiling with ease. You'll also be able to save on your investment. We offer low prices, short wait times and a professional installation, and we source all of our products from leading manufacturers.
If you've been inspired to enhance your home, get in touch via our online contact form or call us on 01252 444 365 to discuss your ideas with us! Alternatively, our online quoting engine allows you to design a bespoke roof and get an accurate quote for it in minutes.
We look forward to enhancing your home with a conservatory roof replacement at Jewel!